I've decided it's time to get back into blogging. Until a couple of years ago, I used to enjoy writing about the little details of my life that might be worth sharing. Then we moved and soon after that the world changed (with the help of the C word) and somehow, I stopped writing blogs. Maybe it's the cooler weather (at last) that's upped my mojo. Let's see how long I last.
I know it's an overused comment to say how quickly this year is racing away and I can't help wondering if the twenty-four hour news cycle contributes to this. Anyhow, we have a federal election behind us and a new season has begun. For many North Queenslanders, winter is their favourite time of year. The heat and humidity finally abate, leaving us with crisp, clear, perfect days. I've actually had a long sleeved T-shirt on all day today!!
Apart from the fact that I'm writing a new novel, which is hardly news, as it's been my daily MO for more than twenty years, this week started for me with a trip by ferry to Magnetic Island on Monday evening. I sing in a local world music choir called Aquapella, but our conductor is currently unwell and we're rehearsing without him. There's a "Townies" branch that meet on Townsville's Strand and an Island branch and we combined for Monday night's rehearsal. One of the best parts about this was that I got to chat on the ferry with other singers I hadn't had a chance to get to know, which is always one of my favourite activities.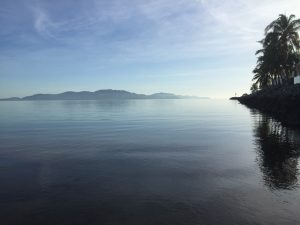 My husband decided he needed to celebrate the beautiful clear, still mornings by getting up early to go fishing. I was comfortably reading in bed and enjoying a cup of tea, when he returned to tell me the prawns were "on the run" and it was actually written into our wedding contract that when this happens, I'm required to hold one end of the net.
I obliged and when we hit the beach, I was grateful to be out on such a gorgeous morning. Luckily, it only took one sweep of the net to catch ourselves a kilo of beautiful prawns, but it took quite a bit longer to rescue all the little fish also caught in the net, which we needed to throw back.
We had a few of the catch for lunch and my husband made a beautiful prawn and fennel risotto for dinner that evening. Lucky me.
During the week one of our neighbours left to live in Brisbane, so there was a small farewell and she gave us a bag of oranges, as another friend had given her more than she could use. We decided to make marmalade, but as we hadn't made jam since leaving the Tablelands (where we grew our own fruit) we were a little unsure about the whole setting situation.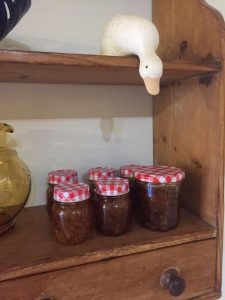 In the end I think our marmalade might be a little overdone, but it's certainly set and the bits that stuck to the spoon tasted yummy.
Saturday was also my amazing mum's 96th birthday. Yes, she and the Queen were born just a few weeks apart and Mum's always been a huge fan of hers, even going to see Queen Elizabeth in a Sydney parade on the day before she gave birth to my little sister. I think the story goes that she was in early labour, but couldn't miss seeing HRH. 
Needless to say, my mum has a new hands free phone that she hasn't quite got the hang of and I couldn't get through when I tried to call her, but luckily we had spoken on the day before and I knew she was OK and would be having lunch with my sister and various family members.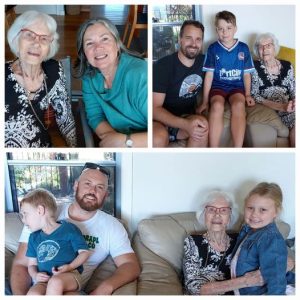 Then I was off to a dress rehearsal with Umoja, the African choir we're combining with to sing at the Palm Creek Festival. We love singing with them – singing African songs, I might add – as they have a wonderful range of music and their voices are glorious – especially their men. Like Wow!!!
Sunday morning we were visited by old friends who, like us moved, from Townsville to the Tablelands, but unlike us, are still living up there on a beautiful rainforest acreage, so that was a lovely catch up. I made my favourite quick, go to recipe – date and ginger cake. Recipe below.
And on Sunday night we had a barbecue at my son's place. My husband cooked the last of the prawns as an entrée, lightly dipped in egg and spiced flour and cooked in peanut oil and they were sensational – disappeared in a flash. Son cooked wonderful roast chicken over the barbecue and daughter-in-law made one of her fab vegetable platters, followed by key lime pie for dessert.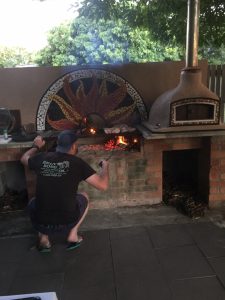 Our weeks aren't always quite so social, and I didn't get quite as many words down as perhaps I should have but well, there's always next week.
Till then happy reading,
Barb
Date and ginger cake
INGREDIENTS
125g butter, chopped
1 cup (150g) pitted dates, roughly chopped
¾ cup raw sugar (my preference but you can use white)
125g (3/4 cup) crystallised ginger, chopped
1 teaspoon bicarbonate of soda
1 egg lightly beaten
1 ½ cups self-raising flour
METHOD
Step 1 Preheat the oven to 180 C. Grease and line base and sides of a 7 cm deep, 18 cm (base) square tin. (That's the official suggestion, but a loaf tin works fine)
Step 2 Place butter, dates, sugar, ginger, 1 cup water and ¼ teaspoon salt in a saucepan over medium-high heat. Bring to the boil. Reduce heat to low and simmer for 2 minutes.
Step 3 Remove from heat. Stir in bicarbonate of soda (mixture will foam). Transfer mixture to a bowl. Set aside for ten to fifteen minutes to cool slightly.
Step 4 Add egg to date mixture and mix well. Sift flour over mixture and stir gently to combine. Spoon into pan. Bake for 40 to 45 minutes or until a skewer inserted into the centre comes out clean. Stand in the pan for 10 minutes before turning out onto a wire rack to cool completely. Cut into squares (or slices) and serve, possibly with a little butter or not, according to your taste.