Midyear already. Wow. I've read that the years fly faster as we get older, because we've already experienced so much and our brains are in more of a "been there, done that" mode than when we were young and learning new things all the time. Can you remember those days when the six weeks of the summer holidays seemed to str-et-ch forever??
This week we finished our latest painting projects – this time, our very first attempts at renovations using Annie Sloan chalk paint (although we've used her gold creme paint to touch up painting frames.) The chalk paint is easy to apply and after experimenting with the top wax coat on the patio lantern, we felt brave enough to apply the final coat of wax to the furniture.
An expert might find fault with our efforts, but I'm happy to report we're very pleased with the results and the new furniture tones in much better with the surroundings.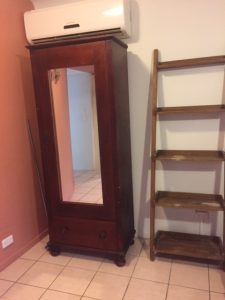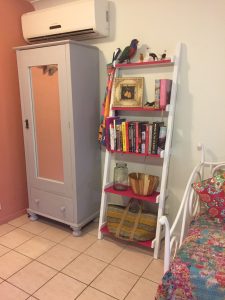 Part of the reason for the push to get this done was the fact that I was to host my book club for lunch on the weekend. Most of the women in this club are old friends I used to teach with back in the 90s (last century, oh my!) and although I've spent fourteen years away on the Tablelands and some of the book clubbers have been living elsewhere as well, our friendships have taken up just where they left off, which is great.
We decided, because it's unusually wintry and cold (for Townsville) and a couple of our members are dealing with health issues, that we'd share our favourite comfort foods. We ended up with a wonderful range, from spinach, chickpea and chilli soup to a pasta bake, stuffed capsicums, baked veggies and pears poached in red wine, as well as chocolates and bubbly. My contribution was our family's go-to pasta bake — just bacon, onion, tomato soup and cheese oh, and macaroni – too simple to be clever and yet it works!! The buttered breadcrumbs on top are a must. (P.S. the pic shows this uncooked. It's lovely and browned and bubbly round the edges when done. But I was too busy hosting to remember a photo.)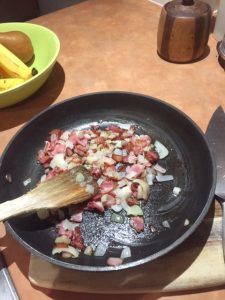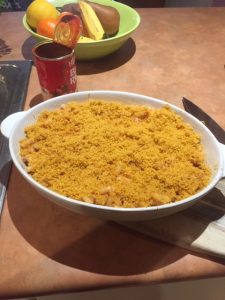 We're great talkers – and our lunch went for three and a half hours on Sunday – books being only part of the discussions, I must admit.
In terms of reading, I've been having a bit of a struggle lately. I fear I've become less tolerant and more conscious of not continuing with reading a book I don't love, so there have been a few left unfinished – something I would never have done when I was younger. If you have any good recommendations, I'd love to hear.
But perhaps I've become generally more nit-picky – I'm not exactly happy with the story I'm writing either. I've always said that writing books is a bit like giving birth and no two labours are alike. Hopefully, I'll nut out what's troubling me about this story and get into a happy rhythm quite soon.
Yesterday, Monday, was a public holiday for Show Day here in town, but a very cold, wet and miserable one it was, and it was also one of the final days for showing the latest Downton Abbey at the cinema, so we snuck off in the afternoon to watch this. Oh, I'm so glad I did. I thought the plotting was pitch perfect with just the right amount of emotional tension and mystery, an interesting element with the introduction of cinema and the South of France for a change of scene – and such clever tying up of loose ends. Loved it.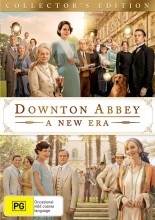 Now, I'm inspired to get on with my own book. Wish me luck. 😊
But in the meantime, I have lovely paperback copies of my new release THE HAPPIEST LITTLE TOWN and I'm very excited to soon be sharing this story with you. I'm running giveaways on my  Facebook page and in my Newsletter so do enter, won't you?
Barb x