This week I was all keyed up to do a special painting workshop on the weekend. No, not an arty workshop, although I'd love to do that one day, too, but one that teaches techniques for painting furniture and craft projects using Annie Sloan Chalk Paint. Unfortunately, the person giving the workshop had to cancel as she wasn't well. I'd also been battling a cold all week, but was better and raring to go, so decided to get on with my projects without doing the workshop first.
There are videos on YouTube and I had a long chat to the guy who sells the paint and dived in. My husband is helping me – he has little choice as the furniture we're "doing up" is also near the desk where he works – a space off the kitchen where we have a day bed, desk, bookshelves and a cupboard for storing our many shopping bags etc.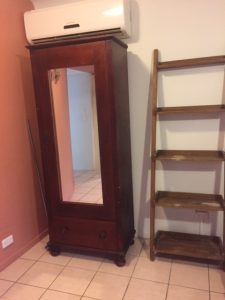 Chalk paint is fun to use – quick and easy to apply. We practised on an old lantern that holds a candle. It was rusty and on its last legs, but we're giving it one last lease of life.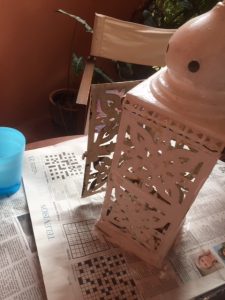 Then we moved on to the shelves and cupboard.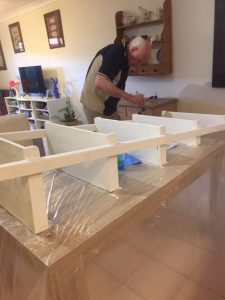 This is still a work in progress, and we haven't got to playing with the colourful trims yet, but we're making good headway. Will report back next week.
On the weekend, we also saw Dance North's production Wayfarer. It was exciting to be back at the theatre after these past difficult years, enjoying a glass of wine before the show, and we were especially keen to see Dance North, as one of our daughters danced with them many years ago. But wow, they've come a long way in that time!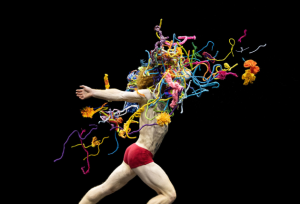 The choreography was so inventive, as were the set and props – including globes scattered among the audience (there was one on my chair that I got to hold) that lit up or produced various sounds at different points during the performance, so that the audience felt really involved — and the dancing was amazing. They're going to Brisbane, later in the year and I highly recommend the show.
We actually doubled up on entertainment this week, because we also took two of our granddaughters to the NAFA Circus Wonderland.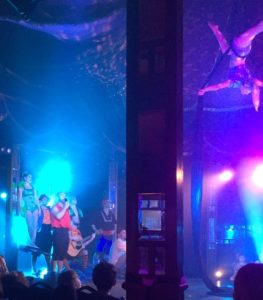 A fun cast with Captain Hook, Peter Pan, Wendy, Tinkerbell and a few extra pirates and truly gasp-worthy acrobatic feats, jaw-dropping juggling and the most amazing, magical quick change artist. Fun, fun, fun.
I assure you, I have also been writing and part of my work in progress is set in a rainforest, so I've also been researching. This week I came across an incredible article about birds and discovered that while some birds are born knowing how to sing, others have to learn their song from their parents and siblings. Fascinating. If you'd like to read this, here's a link.
I must admit while the world news gets grimmer and more tragic, I am grateful to be distracted by these various projects and outings and know we're very lucky. Wishing you a happy week,
Barb x