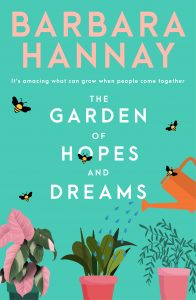 Last week my new book The Garden of Hopes and Dreams passed its second round of editing and is now being prepared by the typesetters. The release date is just a few months away now on August 3rd, and this is always an exciting time for an author, a time for gently letting go of the idea that's dominated everything for the past twelve months, while letting a new idea for another book that's been hovering in the background finally step forward to take centre stage.
Before I dive into my new book, however, I'd like to reflect a little on The Garden of Hopes and Dreams. I know the central idea of a community garden for an apartment block has grown out of my own life's journey.
Some years back, Elliot and I moved out of the suburban home where we'd raised our family (and where a backyard barbecue area under a vine covered pergola complete with fairy lights was a major feature) and moved into an inner city apartment.
The apartment was lovely and the new lifestyle was exciting with cafes practically on our doorstep, plus shops and every convenience (including a doctor's surgey) within walking distance. We were enjoying this new life, but one thing was missing – a garden. I come from a family of gardeners, some of them far more expert than I am, but I hadn't realised how important it was to me until I no longer had a garden. 
When we took a break and travelled to the beautiful Atherton Tablelands, I made the mistake of looking in a real estate agent's window. (ha, ha) I won't bore you with the next few steps. Needless to say, we ended up with a cottage and five acres on a misty hillside with amazing views, a high rainfall, rich volcanic soil  and endless potential for gardening. (Not to mention having chooks and ducks and pigs.)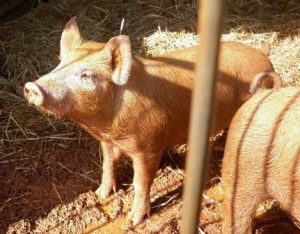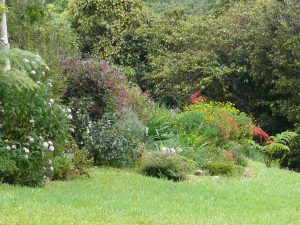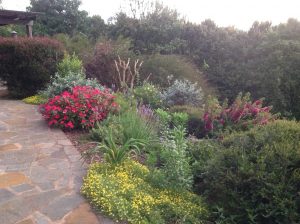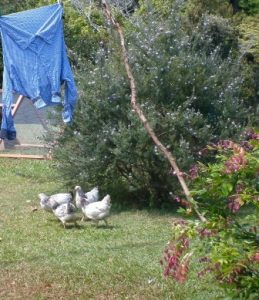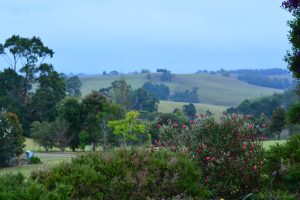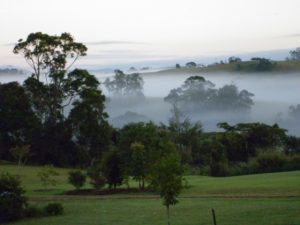 I'm still learning how to layout with this blog format, so forgive the messiness. Anyway, we had so much fun creating our home in the hills. Over the years that followed, I kept writing constantly, but I made sure I spent plenty of time outdoors as well, enjoying the fresh mountain air, the views and, of course, the garden, which we pretty much built from scratch.
Fast forward almost fifteen years, Elliot had a small, but worrying heart attack, old age was looming, and we decided it was time to return to the city, closer to family and facilities. 
So now we have a much, much smaller garden and we're back in Townsville's heat, but we're loving being close to family again and rediscovering all that a city lifestyle has to offer (especially theatre and cinema).
But do we miss our country home? Yes, absolutely. More than once recently, I've found myself wondering about our Scottish ancestors and how they must have missed their cold, green, rainy homeland when they moved to Oz.
So, rather naturally, some of my nostalgia found its way into the book I wrote last year, where one of the main characters is a woman who's moved from an outback cattle station to a city apartment.
But I also loved writing about the sense of connection and community she discovered, which is can be an important process for many of us, who undergo any kind of life changing experience.
Mind you, that's just the storyline for one of the many characters in this multi-layered book. I look forward to telling you more over the next few months.
In the meantime, you can read the blurb for The Garden of Hopes and Dreams and find out where to pre-order your copy here.
Until next time, happy reading,
Barb x