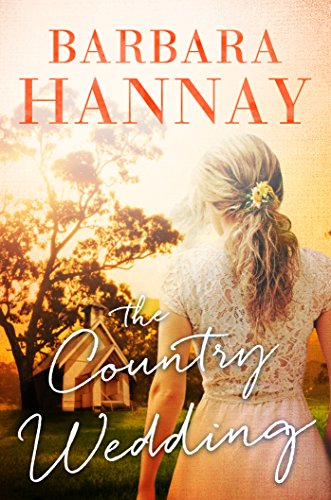 Two country weddings more than fifty years apart and the miracle of second chances…
In the tiny Tablelands township of Burralea, musician, Flora Drummond is preparing to play for the wedding of a very close friend. If only she could quite forget the embarrassing teenage crush she once had on the handsome groom.
All is as it should be on the big day. The little church is filled with flowers, the expectant guests are arriving, and Mitch is nervously waiting – but his bride has, shockingly, vanished!
Decades earlier, another wedding in the same church led to a similar story of devastation. Hattie missed out on marrying her childhood sweetheart the first time around, but now she has returned to the scene of her greatest heartache.
As Flora is drawn into both romantic dramas, she must also confront a relationship crisis of her own. But the past and the present offer promise for the future and there's a chance for friends, old and new, to help each other to heal.
From the rolling green hills of Far North Queensland to the crowded streets of Shanghai on the eve of the Second World War, this is a beautiful romantic saga that tells of two loves lost and found and asks the questions – do we ever get over our first love, and is it ever too late to make amends?

Praise for multi-award-winning Barbara Hannay:
'It's a pleasure to follow an author who gets better with every book.' Apple iBooks, 'Best Books of the Month'
'No one does emotional punch quite like Barbara Hannay.' Helene Young
'Hannay is fast becoming one of my favourite 'go to' writers!' GoodReads
Burralea, 1958
The day was a stinker. The sun overhead was blazing and sweat trickled beneath the bridegroom's collar. Unfortunately, the weather wasn't the only cause of his discomfort as he waited outside the quaint white church perched on a rise above Burralea.
'You look like you could do with a smoke, Joe.' His best man, Cliff, shook out a packet of Camels.
Joe hesitated, remembering the aunts he would have to kiss once this ceremony was over. Then he thought about his bride, who was carrying his child, and who was about to head down the aisle in a fancy white wedding dress specially transported over a thousand miles from a Brisbane department store. Stuff it. He needed a smoke.
'Thanks,' he said, taking a slim cigarette and then ducking his head to meet the flame held between Cliff's cupped hands.
'They reckon every bridegroom gets nervous,' Cliff suggested.
'Yeah. Course.'
'I s'pose the trick is to keep your thoughts fixed on the honeymoon.'
Joe dragged a little harder on his cigarette. Grey clouds hunkered on the horizon, but they offered no relief from the burning sun.
'You'll have a bonzer time on Hayman Island,' Cliff suggested. He'd been Joe's mainstay during the past few weeks, ever since the drunken debacle at Joe's twenty-first birthday party, the night that had started this wedding train rolling. The poor fellow was still doing his best. 'I hear it's really flash.'
Joe nodded, but he wasn't about to confess that the bride's father had coughed up the money for the luxury Barrier Reef resort. Ted Walker wanted the very best for his daughter, of course, and as owner of Burralea's one and only pub, a grand two-storey affair with a splendid fireplace and a magnificent silky oak staircase, Ted could easily afford it. He was footing the bill for the wedding reception, too. It was going to be held in the pub's enormous dining room. Joe didn't have that kind of money. He ran a cattle property with his dad not far out of town.
Kooringal was a modest place compared with the huge stations out west, but Joe and his dad turned out good quality beef, and they kept their heads above water. He knew the Walkers weren't happy about their daughter marrying 'down', but when Gloria had told them she was pregnant, they'd had little choice. They'd demanded a wedding, and put on brave faces. Joe knew how that felt.
He needed a brave face now as the church's wheezy organ started up and Reverend Gibson popped his head around the vestry door.
The minister beckoned to Joe and Cliff. 'Time, gentlemen.'
This was it. A cold jolt of panic spiked through Joe. His legs felt hollow as he ground the cigarette into the dirt with his heel.
He didn't want to do this. He had no choice.
Cliff patted his coat pockets. 'Still got the ring,' he said with an encouraging grin.
Joe couldn't manage an answering smile. 'Good man,' he said.
Shoulders squared, Joe followed Reverend Gibson into the little church, packed with family and friends all dressed in their wedding finery. He saw his parents in the front pew, his mum looking dewy eyed and his dad stern but proud. They were both disappointed that Joe's older sister, Margaret, hadn't come up from Melbourne for the big day, but Joe understood why she'd stayed away. Besides, he had bigger things to worry about today. Now, his collar was choking him, but a whispering excitement buzzed through the congregation, and there was a stirring at the back of the church. No time to ease the knot at his throat. Already, too soon, the organist was striking the chilling chords that announced the arrival of the bride. Joe stiffened like a prisoner facing a firing squad. He told himself that once the ceremony was over he'd be okay. He'd just get on with the rest of his life as best he could.
He wouldn't be the first man to wed out of necessity, and he and Gloria would manage. Romance was supposed to be overrated anyway, although Joe, drowning in the very deepest of regrets, knew this wasn't true.
Uneasily, he turned and saw Ted Walker and a figure in frothy white making their way down the aisle towards him. A rustle of satin whispered at his side, announcing Gloria, looking pretty and surprisingly innocent, behind a misty veil. The music stopped. Reverend Gibson's voice boomed. 'Dearly beloved, we are gathered here today in the sight of God . . .' Joe took a deep breath and the time-honoured ceremony flowed seamlessly towards its inevitable end.
Afterwards, they posed on the front steps of the church for photographs. There were photos of the bridal party, photos with parents, with the aunts and uncles, with friends. More clouds had gathered by this point, now darkening the sky and casting a gloom over the afternoon.
Joe was blinking from all the camera flashes when he saw the lone figure in the distance. From the church's position at the top of the rise he had a clear view down the street. About halfway, a woman was standing beneath a leopard tree, watching them. His heart stilled.
She was wonderfully slender and wearing a green dress, a dress he remembered too well, with a scalloped neckline that sat neatly against her perfect pale skin, and a narrow belt that circled her slim waist. Despite the gathering clouds, her hair glowed like honey. Hattie. For bleak, gut-churning moments Joe stared at her. Helpless. Distraught. She was more than a hundred yards away, and he couldn't read the expression on her face, but he felt her desolation land like a blow, an axe to his heart. He had tried to apologise to her for this heartbreaking mess, but no apology could undo his stupid, careless, unforgivable mistake.
'Hey, Joe, you're not smiling,' his Aunt Gertrude called rather bossily. Joe swallowed, tried desperately to dredge up a smile as another flash went off and another cloud, dark as a bruise, rolled over the church's roof. A gust of wind came with it and all the wedding guests looked up, their faces a picture of dismay as they realised they were about to be drenched.
The rain arrived in a sudden, nasty scud that sent everyone scattering. Gloria's father stepped forward with a huge black umbrella to hold protectively over his daughter. Down the street, the girl in green climbed into a small white VW and drove away.