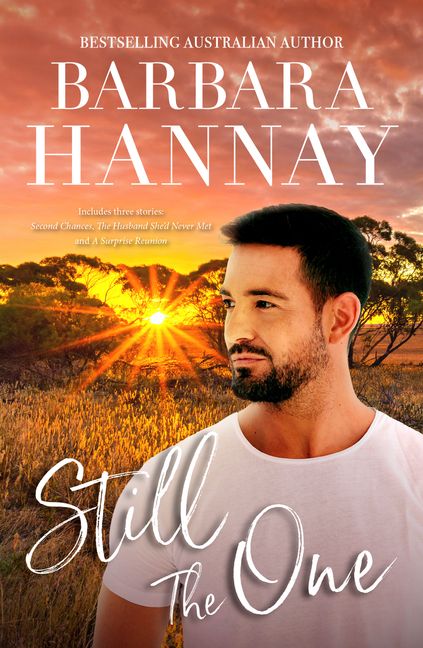 Never say never…
Second Chances
It may be three years since Ellie saw Joe, yet their attraction was just as strong. But he's only passing through and all that's needed is her signature…on their divorce papers.
When the rain begins to fall on Karinya Station, there's nowhere to escape. Could a magical few days bring back their sparkle?
The Husband She'd Never Met
Waking up from a riding accident, Carrie Kincaid had no memory of her husband Max or their rural country life. But he still made her heart race…
For Max, this is the last chance to save their marriage. Can he help her rediscover all the reasons they fell in love, or has time finally run out?
A Surprise Reunion
Eva Hennessey has made her life in Paris – far away from her childhood sweetheart, Griffin Fletcher. But when she returns home to Australia, she nervously accepts an invitation to her school reunion.
Griff never imagined he would see Eva again, and now he wants some answers. She may be more beautiful than he remembers, but she also masks a pain only he can see. It's a secret she's kept far too long…a secret that will change their worlds forever!
Product Details
ISBN: 9781867273820
ISBN 10: 1867273829
Imprint: Mills & Boon Special Release AU
On Sale: 03/05/2023
Pages: 400
List Price: 29.99 AUD
BISAC1: FICTION / Romance / Contemporary
From A Surprise Reunion
Chapter One
When the invitation arrived, Eva Hennessey was away in Prague, dancing the role of Odette in Swan Lake. On her return to Paris a week later, she found her mailbox crammed, mostly with an assortment of bills and dance magazines. She was riding the rickety old lift to her apartment on the fifth floor when then bright, sunny Australian stamp caught her eye. Then she read the postmark. Emerald Bay.
The sharp pang in her chest made her gasp. It wasn't homesickness. Eva's feelings about the beach town where she'd grown up were far more complicated. These days she rarely allowed herself to unpack the mixed bag of emotions that accompanied memories from her youth.
She always ended up thinking about Griffin Fletcher… and the harrowing memory that would never leave her.
She'd worked hard to put that life behind her. She'd had to. Long ago.
Today, as the hum of Parisian traffic reached Eva from the street below, she let herself into the apartment that had been her home for the past ten years. Nanette, the concierge, had already turned on the heating and the apartment was welcoming and warm. Eva had loved this place from the day she'd first found it.
Decorated simply in quiet, creamy tones with occasional touches of blue, the main living area was dominated by a far wall of windows that looked out over tiled rooftops, chimneys and church spires to the top of the Eiffel Tower. At night, on the hour, the Tower glittered with beautiful lights. It was a view Eva never tired of.
Stopping for a moment, she smiled to herself as she looked about the space she'd carefully assembled over the years – the beautiful cushion covers she'd picked up on various tours, the collection of blue and white pottery from all over Europe, the wide-brimmed bowl full of shells and stones she'd collected from beaches in Greece and Italy, in Spain and the UK. So many happy memories to counteract the sad ones from her past.
She set down her luggage and dumped the envelope from Australia on the coffee table along with the rest of her mail. Then she went through to the bathroom and had a long, hot shower, massaging the nagging pain in her hip under the steady stream of water.
She washed her hair, dried it roughly with a towel, letting the damp, dark tresses hang loose past her shoulders as she changed into a comfy pair of stretch slacks and an over-sized T-shirt.
Soon she would make her supper. A simple herb omelette would suffice. But first a glass of wine, an indulgence she could allow herself now that the performance tour was behind her.
Curled on the sofa, with the wine within reach and a cushion positioned to support her painful hip, Eva retrieved the envelope from Australia and slit it open. A card depicting an iconic Queensland beach fell out.
Beneath the picture a message – an invitation to a reunion of her classmates to celebrate twenty years since their last year of high school.
Eva felt sick as she read the details.
                Where: Emerald Bay Golf Club
                When: Saturday October 20th.
The simple wording hit her like a punch to the chest. A thousand long-suppressed images crashed in. The beach in summer and the thrill of riding the rolling green surf. The smooth trunk of a palm tree at her back as she sat at the edge of the sand, eating salty fish and chips wrapped in paper. The smell of sunscreen and citronella.
Her thoughts flashed to hot summer days in classrooms with windows opened wide to catch a sea breeze. And then, despite her best efforts to block them, there were memories of Griffin Fletcher.
Griff, sitting at the desk just behind her in class, all shaggy haired and wide-shouldered, catching her eye when she turned and sending her a cheeky grin.
Griff on the football field. The flash of his solid thighs as he sped past to score a try.
Griff holding her close in the dark. The surprising gentleness of his lips.
And, flashing between those sweeter memories, the fear and crushing weight of her terrible secret. The overwhelming heartbreak and pain.
Enough.
Stop it.
Eva knew at once what her response would be. What it must be. Of course she couldn't possibly go. With deep regret, she would be unable to accept this kind invitation. She was very grateful to be remembered by her old school friends, but her schedule was far too tight.
It wasn't untrue.