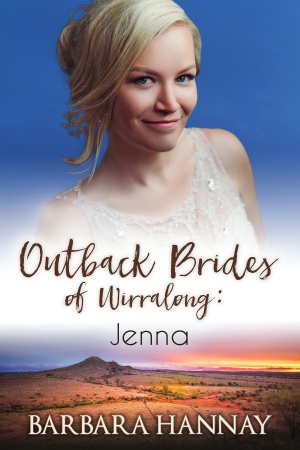 Outback Brides of Wirralong: Jenna
Can she keep a safe distance?
Jenna Matthews is a city girl, no question. Despite a childhood spent in the Outback, she's committed to her fast-paced life and the competitive world of corporate law. When her best friend asks her to be bridesmaid, Jenna finds herself in Wirralong and wildly attracted to the best man. A fling? Why not?
Dangerously sexy Sam Twist runs his vast family sheep property and is as keen as Jenna to keep their relationship at fling status. Then the authorities turn up on his door step and Jenna jumps in to help despite Sam's protests.
She soon learns that after years of drought, there are others in the district who need her skills. Her dilemma? Spending too much time around Sam is perilous. He could rob a girl of her heart.
Outback Brides of Wirralong: Jenna
Chapter One
Jenna Matthews emerged from the bridal boutique's change cubicle in a halter-neck, crepe de Chine gown of palest mint, with her phone buzzing in her hand.
'Oh, you look absolutely gorgeous!' Cate, Jenna's best friend, who was also the bride-to-be, beamed at her. 'I love that dress on you. I think we've found the perfect—' Cate stopped in mid-gush as Jenna held up the phone.
'Sorry.' Jenna grimaced. 'Just need a moment to take an important call.'
Cate's grin vanished. 'Can't it wait five minutes?'
No, not really, Jenna wanted to reply. The client was from the top rung of Melbourne's financial circles and she'd been thrilled to land his case. After years of slogging away in highly competitive corporate law, she'd finally reached the point where she was trusted with major clients. That achievement, however, meant being on call, virtually twenty-four-seven.
Normally, Jenna didn't mind these demands, but right now she also remembered that Cate had tried three times to book a date to find a bridesmaid's dress and there were limits to a girlfriend's patience. And the boutique's sales assistant was shooting her daggers as well.
Lifting a hand to momentarily placate them, Jenna spoke into her phone. 'Simon, I'm sorry. I'm—in a meeting right now. Can I call you back? Say around seven this evening?'
Luckily, this was acceptable, although the concession was made grudgingly. Okay. With that settled, Jenna figured a seven o'clock deadline should give her plenty of time to shop with Cate, as well as enjoying the mandatory drink at their favourite bar, while Cate filled her in on details of the wedding.
Jenna could then work until eleven or so, which wasn't unusual for her. Working late gave her quite a buzz, actually, not unlike the buzz of facing each day with a mountain of new files on her desk. It was all about meeting the challenge.
Still, these things could be overdone.
Ending the call, she turned to Cate and the sales assistant, who were, she was pleased to note, all smiles again. 'This dress feels great,' she told them, honestly. She really loved the swish of the skirt as she moved and the way the lining skimmed silkily against her body.
'It looks fab,' enthused Cate. 'That pale mint colour really suits you and it'll be perfect for a country wedding.'
'A country wedding?' Jenna couldn't quite hide her shock.
'Well, yes, of course.' Cate gave a helpless shake of her head. 'You can't have forgotten, Jen. You know the wedding's in Wirralong.'
'Oh, yes, of course,' Jenna quickly covered, hoping she hadn't caused even more distress for Cate. 'Sorry. Momentary lapse.' Except that she hadn't known this at all, or if she had been told, she'd somehow forgotten. How could she have overlooked such an important detail?
Jenna knew, of course, that Cate and her fiancé had both grown up in the Wirralong district in rural Victoria. She also knew they'd met up again in their home town six months ago and their romance had been a whirlwind affair. But despite Cate's country roots and her plans to spend her married life buried back in the bush, Cate had also spent a decade working in Melbourne.
Jenna had met her when they were both newbies in the firm, fresh out of uni—Cate as an accountant and Jenna as an intern. They'd even shared a flat in those early years, embracing the café and clubbing scene with regular enthusiasm.
Jenna had assumed her friend was still as enamoured as she was with everything the city had to offer. For heaven's sake, Melbourne provided a veritable host of absolutely brilliant wedding venues. And they were all so wonderfully convenient.
Unfortunately, this matter of convenience was yet another stumbling block for Jenna. Of course, she'd known that the wedding would take up an entire Saturday, but that was fine. While she worked most weekends, she would happily give a full day to her girlfriend, taking Cate out for breakfast before the necessary hairdressing and makeup appointments.
But a trip into the country was another matter entirely. Almost certainly, Jenna would need to drive out to Wirralong on Friday afternoon and she wouldn't be back till late Sunday.
Her problem wasn't just the huge time suck. Jenna didn't do country. Not ever.
Not anymore.
When had she not been paying attention?
This was her mistake, though, and it was way too late to question or complain about the plans. Jenna certainly wouldn't let her good friend down. She would have to view this wedding as yet another challenge, albeit a much more personal challenge than corporate law, but one worthy of her best effort.
Resolute as she turned to the full-length mirror, Jenna took a closer look at her reflection. Wow. The dress really was amazing, and Cate was right—it suited her perfectly. The halter-neck showed off her shoulders, which were possibly her best asset and it was ages since she'd worn such a softly flowing, feminine skirt.
Jenna's usual apparel consisted of dark suits (mostly black—this was Melbourne, after all) and silk shirts in white, cream or grey. These she combined with the highest heels she could manage, a necessity required by the gap between her average height and the lofty heights of the men who filled her working life.
It was a bit of a shock now to see herself looking so undeniably feminine.
'We'll need to take the hemline up a little,' the sales assistant was saying as she whipped a tape measure from around her neck. 'But that's not a problem. We have an in-house dressmaker who can deal with that in a flash.'
'Excellent,' Cate responded with a beaming smile. 'So, are you happy with this dress, Jen?'
Jenna glanced again at her reflection, imagining her hair released from its usual neat updo and a bouquet of blossoms in her arms. She would be almost unrecognisable and, for some reason she couldn't quite explain, that possibility appealed. 'Yes, I am,' she said. 'Very happy.'
'Great.' Cate clapped her hands, clearly delighted and no doubt relieved to have another wedding detail locked in.