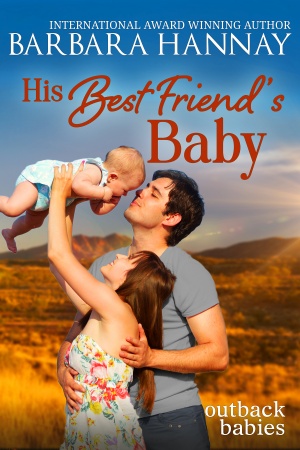 Currently FREE at all ebook stores…
She needs a little favour…
Polly Martin has given up on love, but not on becoming a mother. She returns briefly to her hometown of Wirralong to proposition her childhood best friend, Seth Ramsay, confident he'll agree to be her IVF donor.
Seth walks out of their reunion dinner date after Polly's clinical and unemotional proposal. How could she think he was the type of man who wouldn't take an ongoing interest in his child? A year later, still haunted by Polly's question, he seeks her out in Melbourne and finds her heavily pregnant, unemployed, and barely making ends meet. Seth invites Polly back to Wirralong for a weekend only to end up delivering her baby girl early and finding himself more charmed than he could have imagined.
As Polly and her newborn recover at Seth's house, their friendship is back on, but Seth wants more. He feels like he's finally within reach of his dream when the town gossips send Polly fleeing home. And now Polly must ask herself searching questions, including where her new future lies.
When the ping of a private text message sounded on Seth Ramsay's phone, he was on his back, lying on a trolley under a jacked-up SUV. He was focussed on the vehicle's innards, changing the oil and replacing the filter and although he guessed the caller might be Polly Martin, he kept on with the task at hand. There was no rush. He would answer when this job was done.
     Of course, Seth couldn't help being intrigued by Polly's sudden return to Wirralong. He had no idea why she'd be coming back after all this time, and he had to wonder why Polly had been asking questions about his relationship status – he'd heard as much from LeeAnne who ran the store attached to his garage.
But why would Polly give two hoots about his current love life? Which was actually just fine, as far as Seth was concerned. He and Polly had only ever been schoolmates. The best of mates during those years, admittedly, but Polly had never been his girlfriend.
     Back in their high school days, Polly's father had been manager of the Commonwealth Bank, which was just a few doors away from Seth's parents' service station and garage. At the end of the school day, when most of the kids from Wirralong High caught the buses home to their farms in the surrounding districts, Seth and Polly had been "townies", staying behind.
Most afternoons they'd hung out together after school, serving petrol, washing windscreens, or doing their homework in the flat at the back of the Ramsay's store.
But despite all the time they'd spent together, Seth had barely made a move on Polly. Sure he'd thought about it plenty – but Polly had warned him quite decisively not to get romantic.
'Don't spoil it,' she'd implored him that one time after the senior formal, when they'd found themselves alone and had both gone a little wild. All night they'd been dancing together, touching, smiling, flirting. Polly had worn a beautiful silvery dress that clung to her and had driven Seth several versions of crazy. In the darkness he'd kissed her, had slipped a silver shoestring strap from her shoulder, and he'd come so close to losing control.
Even now, he could remember the disquieting emotion in Polly's bright blue eyes – he'd never been sure if it was fear or disgust he'd seen in the moonlight – but it had certainly stopped him in his tracks.
'Don't spoil our friendship, Seth.'
     It was a hard call and had made no sense to him, but he hadn't pushed the matter. Later, after Polly left for Melbourne, they'd kept in touch for a couple of years – the occasional phone call or email – but it hadn't been long before Polly was totally caught up in her new life, with her new studies and her new friends and her grumbles over her father's new wife. It was pretty clear she and Seth no longer had much in common, so it was more or less a given that they'd drifted apart.
     Such a surprise it was, now, after fourteen years, that Polly wanted to meet up with him again. Seth was sure it was just a whim, a burst of curiosity for old time's sake, but talk about "out of the blue".